Eggs are the perfect protein.  They set you up for the day, balancing your blood sugar for plenty of energy.   Did you know that having plenty of protein and healthy fats for breakfast will stop you craving unhealthy food later in the day?
Confession time……
When I met Jeff I soon realised that he was a fabulous cook. Oh boy, was I a happy girl!
I loved the delicious dishes produced from his kitchen and selfishly loved having someone else do the cooking.  After decades of being the meal producer in the household (previous life) I felt like a princess.
The first time he was making poached eggs, he was a little hesitant. So I shared with him this little secret to cooking the perfect poached egg. He thought I was the best cook EVER! It wasn't until many months later that I confessed I hadn't actually tried it myself, I'd only read about the technique somewhere…….
We (more specifically, he) always cook our poached eggs this way. It works every time.
Now, I'm sharing with you.
PS – I still haven't cooked poached eggs myself 🙂
The Perfect Poached Egg
This method will give you a poached egg without the flyaway and spreading bits of egg white.  There are other ways by swirling the water, but we've found this is the easiest.
Bring a saucepan of water to the boil and gently lower the eggs (in shells) into the water.  Boil for about 10-15 seconds, depending on the size of the egg.  You don't want to cook the egg too much, just to hold the egg white together a little.
At the same time, have a pan of water gently simmering (not boiling) on the stove.
Next, scoop out the whole eggs with a slotted spoon and handling carefully (because they're hot!) break the eggs into the simmering pan of water.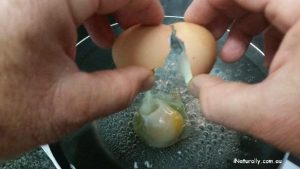 Poach the eggs until it's exactly how you like it.  We like the yokes a little runny – it's an individual thing.  Poaching for about 2 minutes will give you a runny yoke.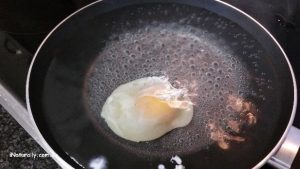 Ta Da!!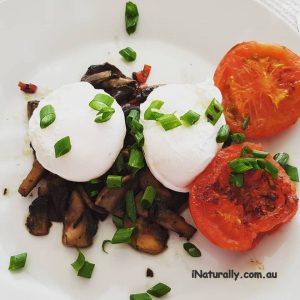 Do you have a favourite way of cooking eggs you'd like to share?
With your health in mind,
Catherine x