If you're after an easy dessert to impress, especially on cold winter nights, then this one will do the trick.
It's adapted from the classic French clafoutis – fruit (traditionally fresh cherries) baked in a sweet batter and served at the table.  This recipe variation is gluten free.
For a cherry version for the die hard French traditionalists, scroll down below.
Here's what you need:
250g Blueberries, fresh or frozen
80g unsalted butter, melted and cooled
2 eggs, lightly beaten
20g coconut
35g rice flour
40g almond meal
20g buckwheat flour
1 teaspoon baking powder
75g caster sugar
1 teaspoon vanilla extract
170ml milk
icing sugar for dusting
Serves – 4 (big helpings)
Here's what you do:
Lightly brush an ovenproof dish with a little of the melted butter.  Pre-heat the oven to 180 degrees.
Scatter half the blueberries over the base of the dish.
Add the vanilla to the lightly beaten eggs, then mix the egg mixture with the flours, coconut, sugar and baking powder and whisk until smooth.
Stir in the melted butter and milk to the batter.
Pour the batter over the blueberries in the dish and add the rest of the blueberries.  The mixture is quite runny.
Bake for 30-35 minutes or until set, golden and puffy.
Stand for  few minutes and dust with the icing sugar.
Serve with marscarpone, icecream, whipped cream or custard.
Cherry Variation
And when cherries are in season, it means it's Christmas in Australia!  You can substitute the blueberries with cherries for a festive dessert which is good hot or cold.
Use 500g of fresh cherries, slice them in half and remove the seed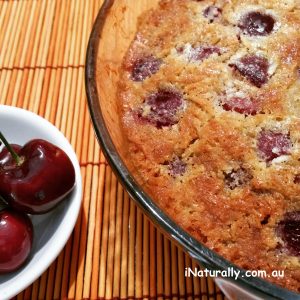 With your health in mind,
Catherine