Fig bread is my take on the classic banana bread.  And, when fig season rolled around in early Autumn, I had a yearning for fig bread.
You know, like banana bread but figgy.
What's not to love about figs and of course fig bread!
Figs are rich in minerals and vitamins and have a high content of soluble fibre.  You know, the type of fibre that your gut needs for good health and function.
Figs also have a naturally high content of fructose (fruit sugar) so eating too many is never a good idea (too many figs will also see you running to the toilet).  Remember, the fructose is naturally packaged up with all that fibre to help slow down digestion and uptake of glucose, but moderation when eating any fruit is always a good idea especially if you have blood glucose issues.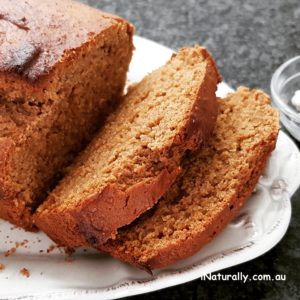 I used dried organic Turkish figs for this recipe so that it can be made the year round and you can better control the moisture content.
Here's what you need to make fig bread:
10 dried figs (200g)
1/2 cup boiling water
1/2 teaspoon bicarb soda
1.5 cups (180g) plain flour
1/2 cup (60g) buckwheat flour
1 cup (100g) coconut sugar
1 teaspoon baking powder
1 teaspoon ground cinnamon
1 teaspoon ground ginger
1/2 teaspoon ground nutmeg
2 eggs
1/4 cup (60ml) coconut oil (melted)
1 teaspoon vanilla bean paste or vanilla essence
2 tablespoons maple syrup
Here's what you do:
Preheat oven to 180c.  Grease and line a standard loaf tin with baking paper.
Figs – cut the dried figs up a little and place in a food processor with the boiling water and bicarb soda.  Let the mix soak for half an hour.  After soaking, blitz the figs until they are pureed.
In a large bowl, add the plain flour, buckwheat flour, baking powder, coconut sugar, cinnamon, ginger and nutmeg and combine.
Add in the eggs, coconut oil, vanilla, pureed fig and maple syrup.
Stir until combined into a batter.  Place in the tin.
Bake for 40 minutes or until a skewer comes out clean.  Rest for 5 minutes in the tin.
Suggested serving ideas for fig bread: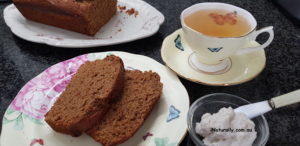 The most delicious way to eat this bread is when it's still warm, just out of the oven.  Top with butter or try ricotta with honey – very, very nice.
Over the next few days (if there's any left) you can toast it. Or pan fry with a little butter.
Enjoy!
With your health in mind,
Catherine x