Oat and cinnamon pancakes – the perfect combination of all that oaty goodness with blood sugar balancing cinnamon.  They're so warming, sweet and nourishing.  This recipe will become your favourite!
I've been working on combining oats and cinnamon in a pancake recipe for a little while.  Because I wanted to share a pancake recipe that was nourishing and would give you plenty of energy by balancing blood sugar without being overly sweet.
Remember, you can add in the sweetness on your plate when serving.
It's important that a nourishing breakfast won't make you feel overfull, because there's nothing worse than feeling sluggish to begin your day.
Another cook once : eat twice recipe
I love these pancakes as a breakfast base and there's thousands of ideas to ramp up the flavour and add in more goodness with what you've got in the pantry and fridge.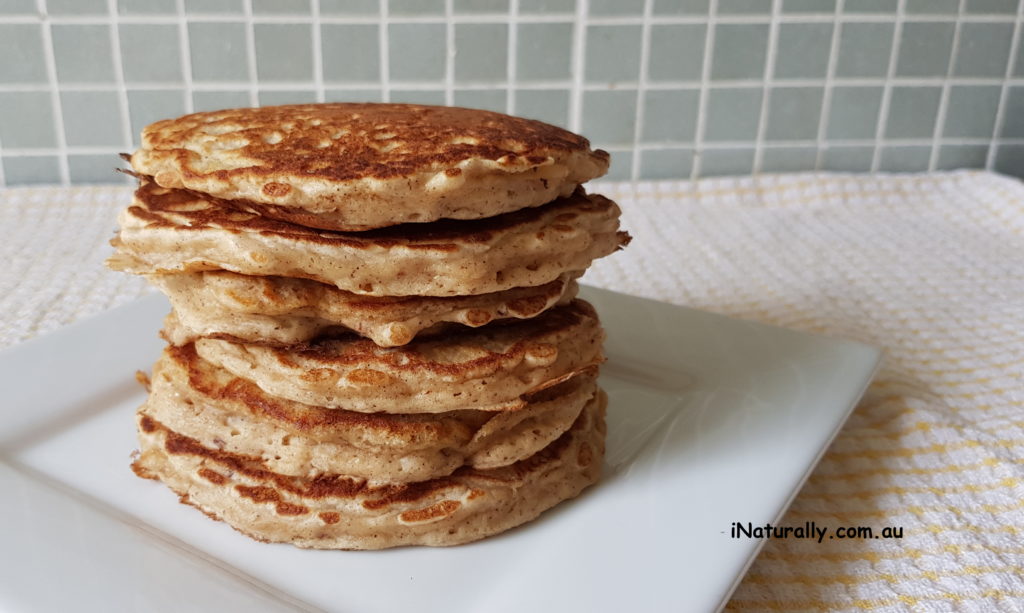 My pancake tester (aka Jeff) was very enthusiastic about this batch, so here it is.
Here's what you need:
1 cup rolled oats (not the quick oats or fine cut oats)
1 cup milk (cow milk or use a dairy free milk of your choice)
1 teaspoon vanilla essence or vanilla paste
1/2 teaspoon ground cinnamon
2 large eggs
1 tablespoon unsalted butter, melted
1/2 cup plain flour
1/4 cup almond meal
2 teaspoons baking powder
extra butter for cooking
Here's what you do:
In a large bowl, mix together the rolled oats, milk, vanilla and cinnamon and let it stand for 15 minutes.  The oats will soak up some of the milk.
Meanwhile, melt the tablespoon of butter and set aside to cool.
Then, break the eggs into the bowl of oats and milk mixture and beat to combine.
Add in the flour, almond meal, baking powder and melted butter and mix until well combined.
Next, heat a cast iron frypan to medium heat.  When hot, add a dab of butter to the pan and when melted place a big spoon of the mixture (I use a large serving spoon) and cook gently until you see bubbles forming on the top.  When ready, gently flip over and cook the other side for a minute or so.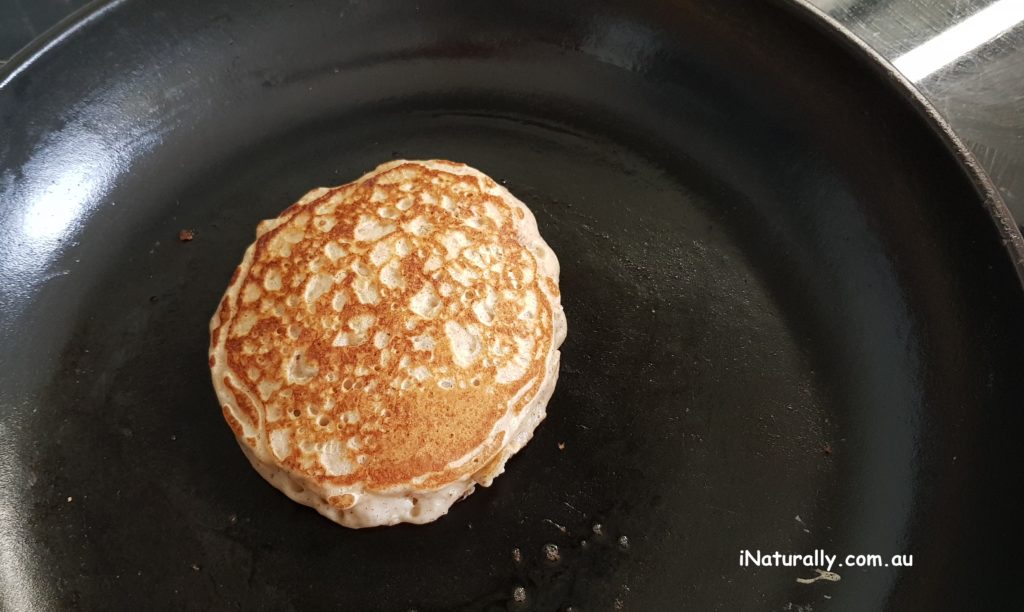 Repeat for each pancake.
This mix makes about 9 or 10 pancakes (or more) depending on the size.
Serving ideas for your oat and cinnamon pancakes:
with berries, fresh fruit or fruit compote
yoghurt
sprinkle on homemade nut and seed granola
a drizzle of maple syrup or honey
top with bacon and maple syrup
perfect served cold as a snack with butter and honey or jam
ideal for school lunch boxes
You can freeze these pancakes and thaw as needed for a quick and nourishing breakfast on the run.
Enjoy!
With your health in mind,
Catherine x