If you're going to make a salad, this quinoa, spiced sweet potato and broccolini salad makes a complete meal-in-one.  Enjoy as a stand alone dish or you can pair it with your favourite protein for added nutrition.
We're Mediterranean food fans ourselves.  Did you know that the Mediterranean Diet has been found to be the best way to eat for overall health, hands down?
But we do try to have at least one vegetarian meal a week.  You can call it something fancy like Meatless Monday, but our veggo night is usually a Sunday.
A cook once : eat many times meal
What is quinoa?
Quinoa is an ancient grain, once the staple food of the Incas.  Even though it's often called a "grain", it's the seed of a leafy plant similar to spinach.  It gets top nutritional points because it's a complete protein (containing all essential amino acids), has plenty of fibre and is gluten free.
Quinoa, Spiced Sweet Potato and Broccolini Salad
This recipe is made in separate parts and then combined to enjoy as a complete meal or as an accompaniment to a variety of dishes.  Below are also variation suggestions and a dairy-free dressing for those struggling with lactose.
Here's what you need:
Quinoa
1/2 cup quinoa (white or dark, or a mixture of both)
1/4 teaspoon turmeric powder
1/2 teaspoon ground cumin
Vegetables
about a half sweet potato
1 teaspoon cumin seeds
salt & pepper
1 clove garlic
2 sprigs thyme (leaves)
pinch of cayenne pepper
2 tablespoons olive oil
1 tablespoon red wine vinegar
1/2 bunch of broccolini (or broccoli trimmed and cut into small florets)
1/2 red onion, dice
1/4 cup walnuts (or your favourite nut like pine nut, cashew, almond)
1/3 cup roughly chopped mixed herbs (such as parsley, mint, coriander, basil, chives)
Dressing # 1
1/2 cup greek yoghurt
juice of 1/2 lemon
salt & pepper to taste
Dressing # 2 (dairy free alternative)
4 tablespoons olive oil
2 tablespoons apple cider vinegar
1/2 tablespoon Dijon mustard
1/2 tablespoon honey
pinch salt
Here's what you do:
Preheat the oven to 200 degrees.
Quinoa
Place the quinoa, turmeric, cumin powder and 250ml water in a saucepan and bring to the boil.  Reduce heat to low, cover and simmer for around 15 minutes or until the water is absorbed and all the quinoa has opened.  Occasionally stir with a fork while cooking.  Remove from heat and set aside.
Spiced Sweet Potato
To make the spice paste, using a mortar and pestle pound together the cumin seeds, a big pinch of salt and pepper, garlic clove, cayenne pepper and thyme leaves until you have a rough paste.  Add the olive oil and red wine vinegar and mix.
Cut the sweet potato into cubes and toss them in a bowl with the spice paste.  Place the sweet potato on a baking tray and roast in the oven until browned.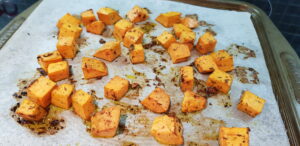 Meanwhile, cut the broccolini stems into bite sized pieces and blanch in a saucepan of boiling water for around 30 seconds (or use the microwave).   If you like the broccolini florets raw, set them aside to add into the salad at the end.
Put together the quinoa, spiced sweet potato and broccolini salad
Place the quinoa in a large bowl.  Add the sweet potato, broccolini, red onion, nuts and herbs of your choice.
Mix up the dressing of your choice (# 1 or # 2) and stir through.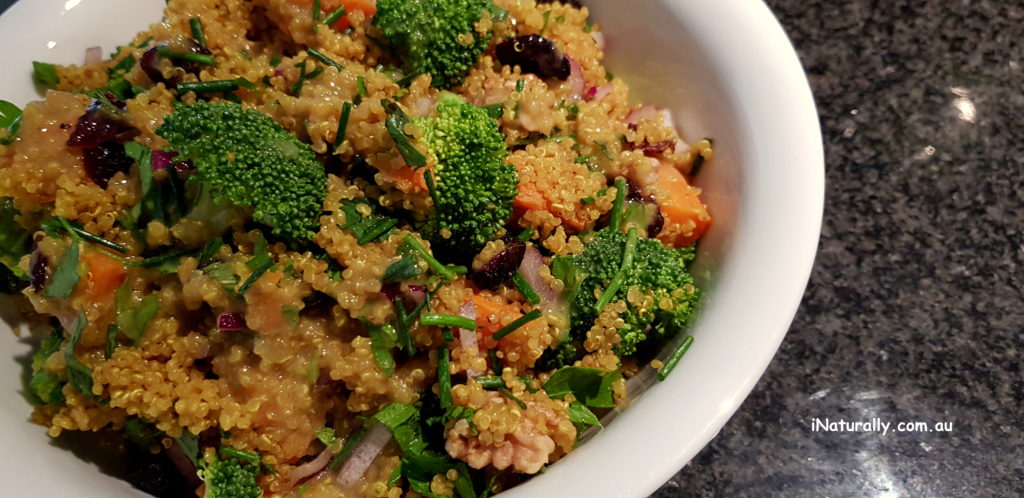 Other suggestions:
Use broccoli instead of broccolini or change the vegetables to carrot or beetroot (use the spice paste for these), fennel, asparagus, spinach leaves, or any vegetable you choose.
Add in chopped avocado or goats cheese for extra fat and protein.
Enjoy!
With your health in mind,
Catherine x