Jeff loves to cook flavoursome and interesting entrees and mains.  I love to bake.  It's a perfect combination (cue cheesey happy faces).
Gluten free baking does pose a problem though, especially for pastry, pasta and don't even try GF gnocchi!  Some recipes convert well, others are an issue, especially when you need the gluten to bind dough together.
There's two reasons for GF eating – necessity and choice
We have one cealiac member of our family – so GF is a necessity when he comes for dinner.  I'm gluten free because of an auto-immune thyroid condition.  This is a choice and I feel so much better when I eat gluten free.
After so many attempts to find a gluten free short crust pastry, I finally discovered one that works, tastes great and get's the tick of approval from family and friends.
Thank you Emma Galloway from My Darling Lemon Thyme – this one's a keeper!
175g fine brown rice flour
80g ground almond flour
25g tapioca flour or GF cornflour
50g raw sugar (or coconut sugar)
125g chilled unsalted butter
1 large free range egg
Place the flours, sugar and butter in a food processor and pulse until the mixture resembles fine breadcrumbs, or rub the butter through the flour and sugar mixture by the old fashioned way.
Add the egg and pulse a couple more times until just combined.
Turn mixture out onto a lightly rice-floured bench and bring together with your hands, kneading a little to form a soft dough.  Form into a flattish disc, wrap in gladwrap and place in the fridge for about 1/2 hour.
Place some cling wrap or a pastry sheet on the bench and place the dough on top.  Roll out to the required size of the pie flan/dish.  When ready, place the pie dish upside down on to of the rolled out pastry and then, carefully lift the pastry sheet or cling wrap up and flip the whole lot upside down.  This way you can avoid the pastry from breaking.  It may take two people to do this.
Don't worry if the pastry does break a little, simply piece it back together in the pie dish.
Blind bake in a medium oven (180 degree) for 10 minutes.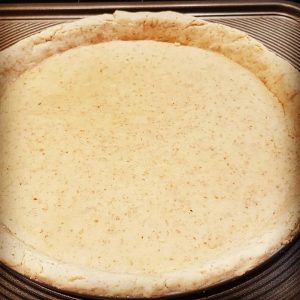 Fill the pastry with your favourite filling, and return to the oven to bake the filling.
You can freeze the blind baked pastry case – it will stay good for a few months.