It's spring in Australia!
One of the best things about spring is that asparagus is in season.  It's well priced at the markets at the moment, so don't forget to put asparagus in your basket.
Asparagus is a perennial veggie with a heap of delicious uses, from tasty tarts to a crunchy addition to salads when blanched and cooled.
Asparagus – a healthy food option for Spring
It's low in calories and is a good source of nutrients such as folate , Vitamins A, C, K and a little iron as well as other trace nutrients.  Asparagus adds a good dollop of fibre as well so is perfect for improving digestion and weight loss.
Tarragon – used mostly as a culinary herb with a slight aromatic sweet licorice flavour that goes perfectly with asparagus.  Traditionally, it was used to help with digestion and for fluid retention.
Tip – eat this tart as a cold snack, or use any leftovers for a quick breakfast idea on the run as it has all the protein you need for a healthy breakfast.
Why does your pee smell after eating asparagus? 
Asparagus contains asparagusic acid and our digestive system
 converts this into sulfur-containing chemicals that are detoxified through the kidney.  It's harmless.  Some people don't notice a change in their urine's smell, other's do.  
One bunch fresh asparagus spears (around 4-5 medium thickness spears)
1/2 cup chopped spring onions, white and green parts
1 tablespoon fresh tarragon, slightly chopped to increase the flavour
3 teaspoons Dijon mustard
5 organic or free range eggs
3/4 cup cream
salt & pepper
Here's what you do:
Tart tin – you can use a rectangle tin (13 x 6) or a round tin (23cm) for the tart.  Use one with a removable base so it's easy to serve.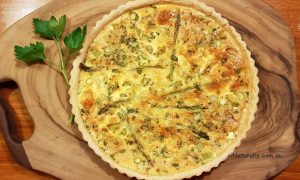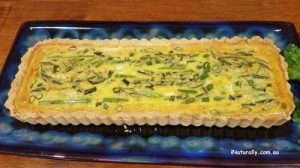 Heat oven to 180c.
Line the tin with shortcrust pasty.  Use your favourite short crust pastry recipe, or frozen sheets.  I used a GF pastry.
Blind bake the pastry case for 8 minutes.  Remove from the oven.
Cut the asparagus spears into pieces, depending on the thickness of the spears.
Place the asparagus and shallots in the pasty case.
In a bowl, whisk the eggs and add in the cream, tarragon, Dijon mustard and salt and pepper to taste.
Pour the egg mixture over the asparagus and shallots.
Bake in a moderate oven (180c) for 25 minutes or until it is set and lightly browned.
Rest in the tin for 5-10 minutes before removing from the tin onto a serving platter or board.
With your health in mind,
Catherine