Sometimes, you just want a chocolate fix, not a whole block, just a bite to satisfy the desire..
So, I went looking for a small chocolate bite that wasn't sweet, would satisfy the chocolate desire, was healthy and nourishing and was small enough for a couple of small bites without filling me up.
These are so good, that I make them all the time.  They're now a permanent treat in our fridge.
Oh, did I mention that they're healthy too!
Protein – from the chia seeds and almond meal
Healthy fat – from the coconut oil and shredded coconut
Fibre – from the dates and almond meal
Antioxidants – from the cacao powder
Here's what you need:
1 cup of pitted dates, chopped
1 cup almond meal
1/2 cup shredded coconut
1/3 cup coconut oil
1/3 cut cacao powder
1 tablespoon chia seeds
Here's what you do:
Place the chopped dates in a bowl and cover with some warm water.  Soak for about 1/2 hour, then drain.
Place the dates and all the rest of the ingredients in a food processor and process until combined (about 30-40 seconds).
Roll into small balls and then roll each ball into some extra shredded coconut – or you can leave them plain like these ones.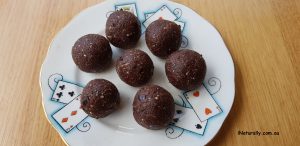 Keep in the refrigerator.
Enjoy!
If you're looking for other healthy snacks, you might like these:
Peanut Butter Biscuits – Gluten Free
Cinnamon Cookies – Gluten Free
Are you looking for a personalised healthy eating plan to improve your energy, lose weight or increase vitality?  I offer individualised support for women just like you, women who want to feel fantastic.  Find out how I can help you by clicking here.