Where do I begin with listing the goodness in this sweet potato and spinach salad?
Firstly, it's ALWAYS about good digestion and happy gut bugs, so let's begin there.
Resistant Starch
Did you know that roasting or boiling potatoes, then cooling them converts them into a valuable food source for your gut microbiome?  It's called resistant starch.  It works for white potatoes and sweet potatoes, so put these roasty little veggies on the menu!
There are certain species colonised in your intestines that just love to chow down on resistant starch.  Other sources of resistant starch are cooked and cooled rice and pasta.  All perfect for salad recipes but you can then reheat the starch for a hot meal too.
This recipe is perfect to feed up those good gut bugs so they can get to work and keep you healthy.
A cook once:eat 2-3 times recipe for busy people
Not to mention the other health benefits of sweet potato – a packed source of fibre, iron, calcium, selenium, lots of our much needed B vitamins and vitamin C.  But I also love sweet potato for the antioxidant known as beta-carotene, which converts to vitamin A when eaten.
Next on the list would be one of my favourite go-to greens – nutrient packed spinach.  A rich source of non-dairy calcium, plenty of magnesium, loads of iron, potassium, Vitamin A and folate.  Each leaf is a power packed nutrient bomb!
You can never have too much parsley – more iron, beta-carotene, Vitamin C plus Vitamin K for healthy blood clotting and bone strength.  For more ideas for increasing parsley in your diet click here.
Nuts are always a great addition to a salad dish, they add crunch, protein, and healthy fats.
The amazing thing about red onion is that it not only adds a sweet zing to a salad when raw, but the colour purple adds anthocyanins which are antioxidants for healthy eyes, heart and brain.
But what I love most about this dish is that it's super easy and you don't need to stick to the recipe.  It's one of those dishes where you get to use what's in the fridge.
Don't be afraid to substitute ingredients
Here's what you need:
1 medium sized sweet potato, peeled and diced
a big handful of baby spinach leaves
a small red onion, sliced
1 long red chilli, sliced (I'm a chilli fan so this is optional)
1/2 cup chopped flat leafed parsley
1/2 cup of roasted nuts or seeds – try pecan, walnuts or in the photo I used a mixed of dry roasted pine nuts and sunflower seeds
Dressing
1/2 cup natural Greek yoghurt
lemon juice to taste (about the juice of 1/2 lemon)
salt & pepper to taste
Here's what you do:
Heat the oven to 180 degrees.
Drizzle the diced sweet potato in a pan with some olive oil and bake for around 20 minutes or until cooked through.  Do this well before so the sweet potato has time to cool, even the day before is good.  I love to plan ahead.
Here's the easy bit……
Mix up the dressing in a jug, adding the lemon juice to your own taste. Season with salt & pepper.
Spread the baby spinach on a serving plate, scatter the sweet potato, red onion, nuts of your choice, parsley and anything else you may want to add.
Drizzle the dressing over the top.
Variation Suggestions for serving your sweet potato and spinach salad
If you're wanting to increase your healthy fat intake, add a chopped avocado
Give the salad an asian twist by using fresh coriander instead of the parsley
For a dairy free option use coconut yoghurt or your favourite olive oil and lemon dressing, French dressing – whatever is your favourite
For extra protein as a lunch or snack (think of an easy work lunch option) add boiled egg or a tin of tuna or salmon
This salad goes well with all meats – fish, chicken, beef, or is deliciously healthy with protein, healthy fats and fibre all on its own.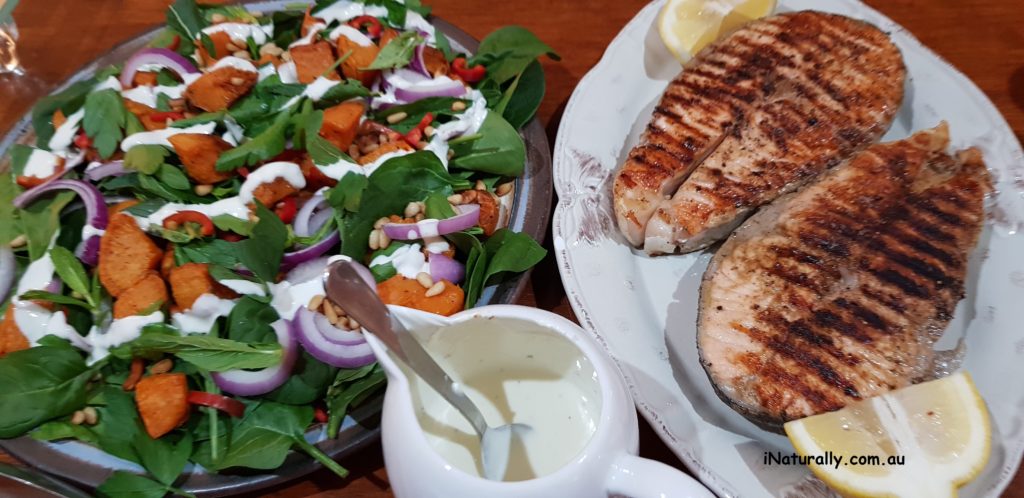 Enjoy!
P.S.  I can help feel fabulous with food first (aka more energy, healthy hormones, feeling fab).  Here's how:
With your health in mind,
Catherine x