We've only recently begun to really embrace making homemade stock.
So glad we are!
Many foods (including stocks) are prepackaged and processed these days but this trend began decades ago.   I remember way back in the 60s and 70s when stock cubes were all the rage.  Sadly, those little package cubes consisted mostly of sodium and other additives and were never a healthy option.
Now we know better.
The convenience of a packet of premade stock is obvious.   When you're a little time poor or want to create a delicious recipe and need to run to the supermarket for the stock for example.  Be warned though – read the labels and you can find additives such as thickeners, gluten, wheat-based flours and colourings!
I used to think that making a homemade nourishing and tasty stock was simply too time consuming.  Yes, it does take a little time, a little preparation and thought, but making your own stock can be quick and easy.   Once it's on the stove, you can simmer it safely for a couple of hours and your stock is done.  The good news – you only have to do a batch every so often to stock your freezer.
Here's a quick and easy vegetable stock idea that you can also use as a base for chicken, beef stock or seafood stock.
Here's what you need to make the stock:
a collection of different vegetables such as celery, carrot, parsley stems, broccoli stems, vegetable offcuts (like beans) etc
an onion, cut in quarters (you can leave the skin on)
a handful of fresh herbs (optional)
water
Tip – we have a plastic bag in the freezer where we place parsley stems, off cuts from a celery bunch, the thick part of broccoli stems.  Keep adding to your "stock bag" and when you have enough, simple throw the frozen vegetables into a pot to begin your stock.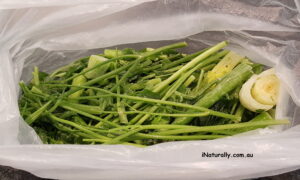 Here's what you do:
Place the vegetables, onion and any spare herbs (optional) in a large pot.  Cover with water.
Bring to the boil and simmer gentle with the lid on for around 2 hours.
Strain the stock liquid into a container.  If you want to reduce the stock to make it more concentrated, add the strained liquid back into the pot and simmer to reduce the amount by half.
Tip – add the soggy cooked vegetables to your compost (no waste at all!)
Pour the cooled stock liquid into moulds (we use dariole moulds) or you can use ice cube trays or other small containers, and place in the freezer.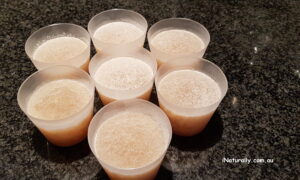 When frozen, decant and keep in a plastic bag.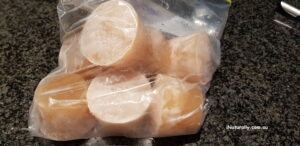 Voila!  Ready for use.
Homemade Chicken, Beef or Seafood Stock
Now that you have the base, it's easy to turn a vegetable stock into a chicken, beef or seafood stock.
One way to do this is to save half the vegetable stock above and return it to the pot.  Add in your protein of choice – chicken carcasses/frames or beef bones or fish heads/bones (whichever stock you want to make).
Or you can do a protein stock all in one go – add the vegetables and the protein in the pot, cover with water and simmer for a couple of hours.
Tip – you can collect raw chicken bones (like the backbone when butterflying a chicken), raw beef bones and raw fish bones/fish offcuts from other food preparations and keep in the freezer for when you have enough to make stock.
Make sure the bones are just covered.  You may need to add more water.
Bring to the boil and simmer for a couple of hours.
Strain the stock liquid into a container.  When cool, place in the fridge for a few hours.  You can then scoop off any solidified fat that will settle on the top of the stock before dividing into portions and freezing (as above).
Don't forget to label the bags in the freezer 🙂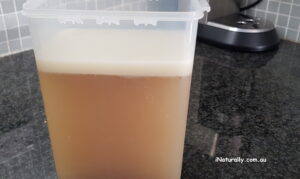 Now, to use it!  Why not make:
Enjoy!
Join my Newsletter list so you don't miss out on regular tips for good health plus delicious healthy recipes.
Click here for Newsletter Sign Up
P.S.  Here's how I can help you with all aspects of your health:
With your health in mind,
Catherine x